China officially announced the abolishment of its 35-year old one-child policy in December 2015.1
Under its new two-child policy, China will now allow all married couples to have two children.
Considering the United Nations once estimated China's human population was estimated would hit 9 billion to 9.7 billion by 2050 2 before this momentous move, this is big news indeed.
We delve into this pivotal decision, and shed light on how this historical move could impact China, as well as international real estate markets.
How will China evolve?
While speculations run rife, we highlight three key projections presented by industry experts:
#1 Potential surge of 2.5 million babies in China by 2017: While it's yet to be determined how many Chinese would opt for a second child, China's two-child policy could conceivably (pardon the pun) mean a demographic boom of 2.5 million to 8 million extra births a year from 2017 onwards, according to state-funded Chinese media site, The Paper.1
#2 75 billion yuan (US$12 billion) increase in China's annual domestic consumption: Ctrip, who based this forecast on the premise of an extra 2.5 million births in China, also projected that this could also bring in as much as US$35 billion in annual investment to sectors – including housing and education.1
Founder Securities is even more optimistic, predicting an increase of 160 billion yuan (US$25 billion) in added consumption each year.3
#3 China's annual GDP to grow 0.5%: With the boost in consumption, it's entirely feasible to expect a spurt in China's GDP, which traditionally has been more of an export-oriented economy.4 According to James Liang, Founder & CEO of Ctrip, the two-child policy could possibly boost China's annual GDP growth by 0.5%1 – an estimate echoed by the Chinese Academy of Social Sciences as well.5
Impact on global real estate markets
Whatever the actual figure would be, the fact remains that China's household consumption will undoubtedly soar in many sectors following the implementation of the two-child policy.
Interestingly, the general consensus in China is that only the wealthy in China will be interested in expanding their family with another child.1 How does this impact international property, though? We break it down below:
#1 Shift in housing needs
Demand for bigger houses is a foregone conclusion. Already, Chinese property developers are experiencing a rise in stock value.6 It's not just about seeking larger homes to accommodate two children though; it's about ensuring living space for the grandparents as well.7
Grandparents hold great importance in China, as they are closely involved in taking care of the children, while both parents work.7
However, in a land where property is king, more demand for family living space also translates into rising property prices – on top of the already inflated housing prices – in China's Tier-1 cities and Tier-2 cities.
In the face of this, Chinese parents with the means may be more inclined to consider a larger home overseas, which offers more value for money.
After all, why pay close to a US$900,000 for a 1,420.8-sq-ft apartment in Shanghai when the same amount could get you a 7,222.6-sq-ft resort-style mansion in Phuket, Thailand?8
#2 Increase in education expenditure
A latest report from the Chinese Academy of Social Science revealed it costs Chinese parents approximately 490,000 yuan (US$77,165) to raise a child (from birth to 16 years old) in an average city in China.3
Those living in Tier-1 cities have it even harder – the number shoots up to 2 million yuan (US$304,162) to raise a child to university age.3
Clearly, raising a child in China is not cheap – even more so when you factor in the child's education, which is highly valued by Chinese, and is considered one of the most important long-term investmentsfor Chinese.
Typically, a one-child household in China typically spends an average of 10.6% of its total income on education, while a household with twins will spend about 17.3%.9
Yet, acquiring quality education in China's overcrowded cities for one child is tough enough, much less for two, especially in super cities like Shanghai, whose population of hukou holders and temporary residential permits has swelled from 16 million in 2000 to approximately 24 million today.10
This, in turn, could motivate Chinese parents to look across borders for better education opportunities, especially as many deep-pocketed Chinese aspire to provide their children with an Ivy League education.
Hurun Report's latest 2015 survey shows 83% of China's HNWIs population desire to educate their children overseas.11
This definitely bodes good news for international real estate markets, as education has long been touted as one of the main motivations that drive Chinese property purchases abroad.11
#3 Continued growth in China's outbound tourism
China's consumer-centric and services industries – including hospitality, leisure, and entertainment – have not been affected by China's current economic tumult, remaining on the upsurge.
Travel remains the number one leisure activity for China's super-rich.12
With the two-child policy already predicted to benefit the travel, technology, and services industries in the long run13, it's safe to say we can expect to see even more Chinese travelling out of China to see the world.14
Let's not forget the visa relaxations by the US, the UK, Canada, Australia, and Japan, as well as Europe's Golden Visa offerings – all which are favourite travel destinations for deep-pocketed Chinese.
In fact, Forbes have concluded China will continue to be the "largest international tourism source market in terms of trips and spending", and predicts Chinese globetrotters will "change the world of tourism" this year.15
At this point, international property agents and brokers should start rubbing their hands in glee, as Chinese buyers tend to property hunt while on holidays abroad – all at the same time.
Juwai research reveals Fly 'n Buy Chinese have a penchant for buying property in holiday destinations they have fallen in love with.
#4 More sustainable economic growth
Overall, the two-child policy is largely seen as the right move for China's economy as it seeks to move towards a more stable and sustainable long-term growth.
With the likelihood of a 0.5% increase in China's GDP1 due to additional domestic consumption, this means China could be one step closer to achieving a more balanced development, as well as helping it hit its growth target of 6.5%-7% per annum.1
Consumer spending accounted for approximately 60% of China's GDP during the first six months of 2015.13
Even though China's economic growth of 6.9% last year was its slowest pace in 25 years, it's still a very respectable figure. More importantly, a recent report has revealed that even if China's real GDP growth tapers to 5.5%, its consumer economy is projected to continue burgeoning to eventually hit US$6.5 trillion by 2020.16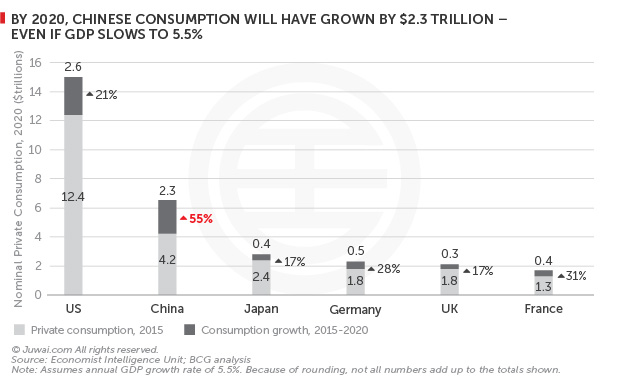 For context, that's a staggering increase of US$2.3 trillion, which is akin to adding a consumer market that is 1.3x larger than that of Germany or UK.16
The report, a joint research from The Boston Consulting Group (BCG) and AliResearch Institute – China e-commerce goliath Alibaba's research arm – further predicts that 81% of consumption growth will hail from China's upper-middle-class and wealthy, made up of households with an average annual income of over US$24,000.16
Such households are estimated to double to 100 million, and their spending are also expected to increase as much as 17% each year.16
China's e-commerce is projected to skyrocket too, propelling an anticipated 42% of total consumption growth to the sum of US$1.6 trillion, thanks to private online consumption that is projected to chart an annual growth of 20% through 2020, as well as the continued growth of China's mobile e-commerce, which already makes up 51% of all online sales in China.16
Need we say more? We've all seen first-hand how a robust economy and consumption could translate into strong spending and property investment overseas by cashed-up Chinese.
What this means for you, as an agent
Fact is, Chinese are still buying properties abroad like there's no tomorrow. China's outbound spending is also slated to grow exponentially within the coming twelve months.
China's Ministry of Commerce says 6.5 trillion yuan (US$986 billion) is expected to be spent on cross-border e-commerce alone in 2016.
When you factor in these with what we've outlined above, what you end up with is a compelling argument that Chinese – whether as travellers, students, investors or luxury consumers – will not be disappearing anytime soon.
This will become even more apparent, seeing as China's first Golden Week of 2016 is just around the corner, when China's wealthy will have seven days of public holiday to jet overseas to holiday and property hunt.
That said, any self-respecting agent aiming for the China market should already know this, and would have their China campaign and strategies at the ready.
New to the Chinese market? There's no time like now to start marketing to this massive and ever-expanding market, which will be well worth your while.
Sources: 1. International Business Times; 2. United Nations; 3. CNBC; 4. Forbes; 5. Chinese Academy of Social Sciences; 6. WSJ: China Real Time Report; 7. Foreign Policy; 8. SCMP; 9. SCMP; 10. SCMP; 11. Hurun Report "Immigration and the Chinese HNWI 2015"; 12. Hurun Report Chinese Luxury Consumer Survey 2016; 13. The Epoch Times; 14. Forbes; 15. Forbes; 16. The Boston Consulting Group (BCG) & AliResearch "The New China Playbook: Young, Affluent, E-savvy Consumers Will Fuel Growth"